"Two terms of five years is just a joke" President Museveni signals he will forcefully vie for another term in 2021
Yoweri Museveni has been president of Uganda for 31 years and he is not about to step down any time soon even when Ugandan law forbids him from vying for president again in 2021.
Museveni signaled that he will vie for president again while meeting Parliament's Legal Committee at State House in Entebbe on Tuesday December 5th.
The Uganda president said he favored two terms of 7 years over two terms of 5 years. Museveni stated that people who support two terms of 5 years are just looking to improve their CVs.
"For these countries with all these problems, two terms of five years is just a joke. Those who talk about this are just looking at improving their CVs. We might not discuss it now but there is merit at looking at the seven years. It would give some time to these young countries to develop. France has seven-year terms, I do not see what they have lost," Museveni stated.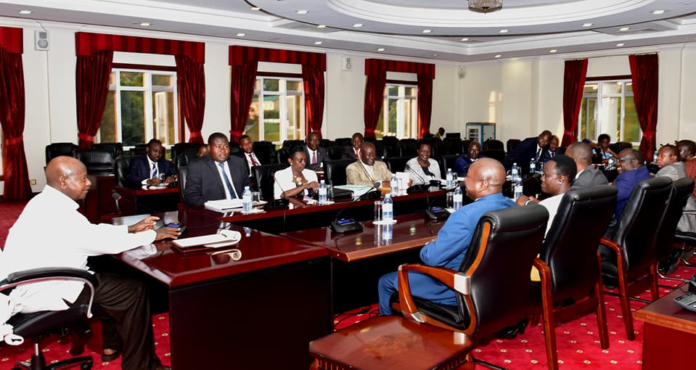 Museveni overruled the constitution in 2005 to vie for a third term. The president's National Resistance Movement (NRM) party scrapped two-term limit to pave way for Museveni to vie again.
The Ugandan president is once again faced with one a major hurdle that restricts him from vying again in 2021. Ugandan constitution bars anyone above the age of 75 from vying for president.
Museveni is currently 73 years old, he be ineligible to vie for president in 2021 because he will be 77 by then. NRM has been doing everything within their means, even offering bribes to all opposition lawmakers, to scrap the presidential age limit and allow Museveni to be president for life.
Museveni himself stated in Tuesday State House meeting that politics was not a sport where one needed to be physically fit to serve.
"Politics is not Olympics or rugby where you need to compete physically. The presidency is a guiding role," Museveni said.