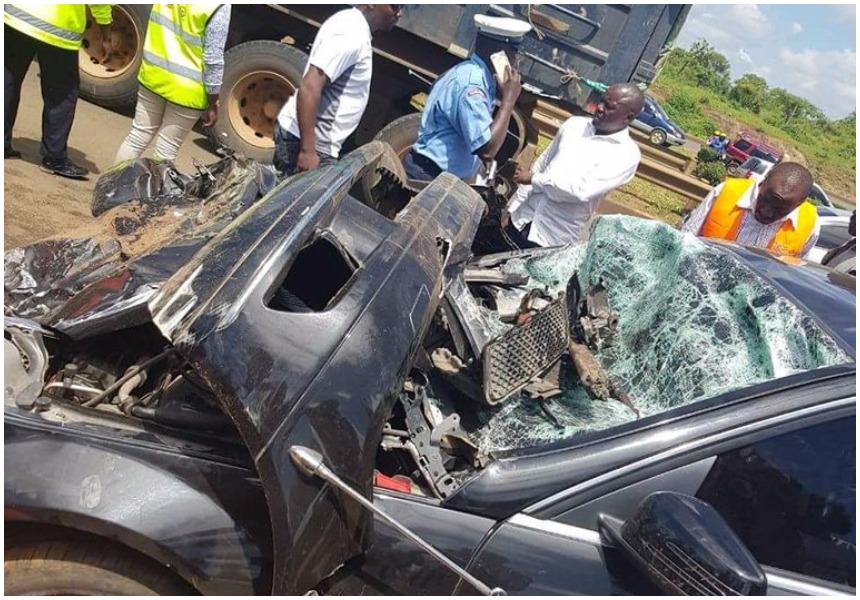 photos:Starehe MP Jaguar involved in accident near Juja
Charles Njagua Kanyi aka Jaguar the MP for Starehe constituency motorcade has been involved in an accident near Juja.
In March this year, a vehicle belonging to musician, Jaguar hit and killed two people in Kirinyaga County.
The musician, police said, was driving his Range Rover heading towards Makutano when he lost control and veered off the road before hitting a motorcyclist and his passenger two at Rukanga along the Sagana- Makutano road.
Police at the scene said the vehicle, which was later towed to the Sagana Police Station, had loose chippings.
The motorcyclist, Mugo Mwangi, 21, and his pillion passenger, James Maingi,21, died on the spot and their bodies taken to the Kibugi Mortuary.
Jaguar posted a message of regret on his Instagram after the accident saying
"It is with grief that I share this post today. As it is now public, I was involved in a car accident. Sadly, lives were lost in the incident,
"It isn't any one's will to wake up and be involved in an accident such as this. My heartfelt condolences to the families and friends of those affected. I would like to assure all concerned that due process of the law is being followed to amicably resolve this,".
Only one person was reportedly injured in today's accident.
Kenyan men are extremely angry with Nyota Ndogo's over the message she sent to president Uhuru Kenyatta
Here are some of the photos from the scene all courtesy:
Breaking News! Is this the list of Uhuru Kenyatta's new cabinet?
Here are some of the reactions after the news broke out on social media.
Pole mweshimiwa Jaguar @RealJaguarKenya, our prayers are with those affected by the accident ,I wish them quick,,,please people Don't celebrate an accident, no one is immortal~@Captain_Lawi
This Jaguar thing must be a devil worshiper..Must your cars be involved in a road accident all the time?? You should be saved man…~@oukoelvas
This is Starehe MPig Jaguar involved in another accident He killed 2 people last yr in an accident, as he was being given a blowjob by his ratchet Hoodrat He is among those elected on a 54% margin. Computer-generated He makes our ears bleed with shit music Don't be like him!~@C_NyaKundiH