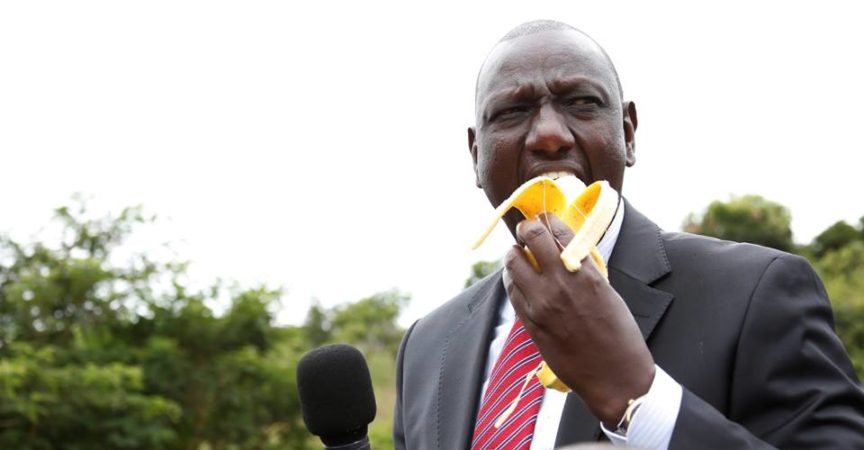 Raila has a right to boycott elections but Kenyans have a right to vote!
President Uhuru Kenyatta and his deputy William Ruto have affirmed the country's commitment to holding peaceful election on the 26th of October even if Raila Odinga decides to boycott.
At the same time the President issued a stern warning against individuals who will attempt to undermine the fresh presidential elections.
The President cited recent incidents where Independent Electoral and Boundaries Commission (IEBC) officials were attacked while preparing for the coming polls.
Speaking at a Jubilee rally in Nanyuki Mr Kenyatta said: "Whoever will try to stop the elections, by attacking IEBC officials, firm action will be taken against them".
He added: "We cannot allow a few individuals to destroy our country".
President Kenyatta urged Kenyans to come out in large numbers and exercise their democratic right on October 26th.
The President told opposition leader Raila Odinga to stop inciting Kenyans not to participate in the coming election adding that the utterances amounted to denying Kenyans their right to vote.
"We are telling Raila you have a right to boycott the election but Kenyans have a right to vote," said President Kenyatta.
"Why do you think you have a right to stop Kenyans from exercising their democratic right?" President Kenyatta asked Mr Odinga.
The President said Kenyans will not allow the opposition leader to undermine the elections so that he can force the country to have a grand coalition government.
President Kenyatta maintained that the power to govern the republic of Kenya would only come from Kenyans through the ballot.
He asked Kenyans to maintain peace and unity as they are the foundation of development.
Deputy President Ruto said the country can no longer entertain schemes aimed at undermining the country's impressive progress.
The Deputy President said there were individuals opposed to the country's development track record.
"We are telling those who are behind the schemes enough is enough. We cannot continue playing with the future of our country," said the DP.
Mr Ruto said it was pointless for Mr Odinga to try and stop the elections because even as powerful as the President is, he cannot stop an election.
The Deputy President said Kenyans are ready to participate in the elections and elect the country's leader.
He said Kenyans were tired of the endless political games that have affected the lives of many Kenyans.
"Elections will be held on the 26th of October whether they protest day and night or hold press conferences everyday. Kenyans are ready to vote and the election is unstoppable."
Mr Ruto asked Kenyans to give Jubilee a second chance to continue implementing its development agenda.
The Deputy President wondered why Mr Odinga wants to talk to the President yet the President is not in charge of the elections.
Other leaders who attended the rally were Governors Nderitu Mureithi (Laikipia) Mike Sonko (Nairobi) MPs John Kinyua (Laikipia County), Sarah Korere (Laikipia North) Mohammed Deddy (Laikipia East) Kanini Kega (Kieni) and Laikipia County Women Rep, Catherine Waruguru.
Ms Waruguru said it was very selfish of IEBC commissioner Roselyn Akombe to resign and undermine the credibility of the institution simply because she has another country to run to
"You are very lucky you have another country to call home, majority of Kenyans do not have a second home like you" said Laikipia Women Rep.
Mr Mureithi assured President Kenyatta that he will spearhead his re-election campaigns in Laikipia County.