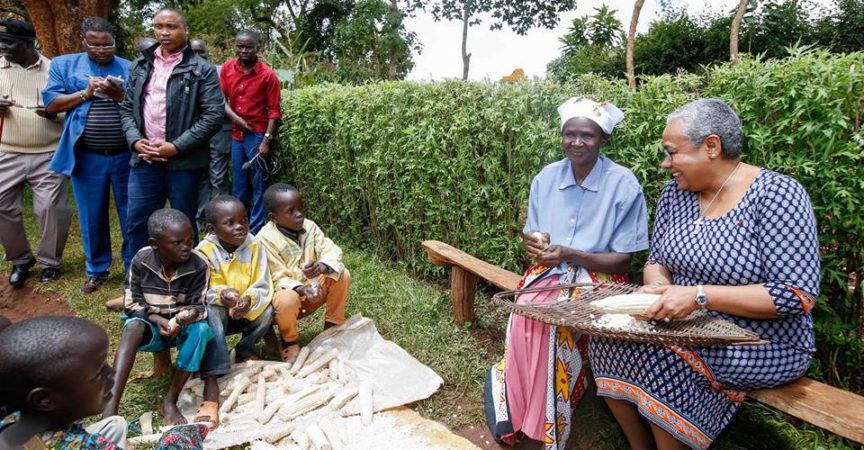 Viral photo of Margaret Kenyatta and Ngina shelling maize for githeri
Margaret Kenyatta is winning over hearts again after she was captured,what many slay queens say they can't.
The First Lady Margaret Kenyatta visited the Machario homestead at Mnagei Ward in Katumok Village, Kapenguria.
Initiatives started in West Pokot County under the Office of the First Lady include the Linda Mama, Boresha Mama Programme among others.
The First Lady joined Mrs. Machario to shell maize for her household ahead of her meeting with mothers and women leaders at Kishaunet, ASK Showground, in Kapenguria Town.
She was in the company of her daughter Ngina Kenyatta.
Here are all the lovely moments:
Here are some of the comments from exited Kenyans:
We are proud to ave you as our Mother God will lift you n entire family for your humbleness, care n love you show to your own daughters n sons all over Kenya love you Mami.
Truly mama this is wonderful.. You deserve being the First Lady. A great hero n role model to our women.
Waaaoh,I love this lady to the moon and back!! Her actions speaks volumes.
You are humility personalised. Just know that we have a lot of respect for you, Your Excellency.
Remarkable!i hope our women will learn something from our humble first lady!
Good work Mama Taifa God bless you and your family.
To All The Slay Queens !!!

First lady and First daughter preparing maize for githeri and yet some some girls with only kshs 316 in bank account says they don't eat githeri. They eat pizza only.