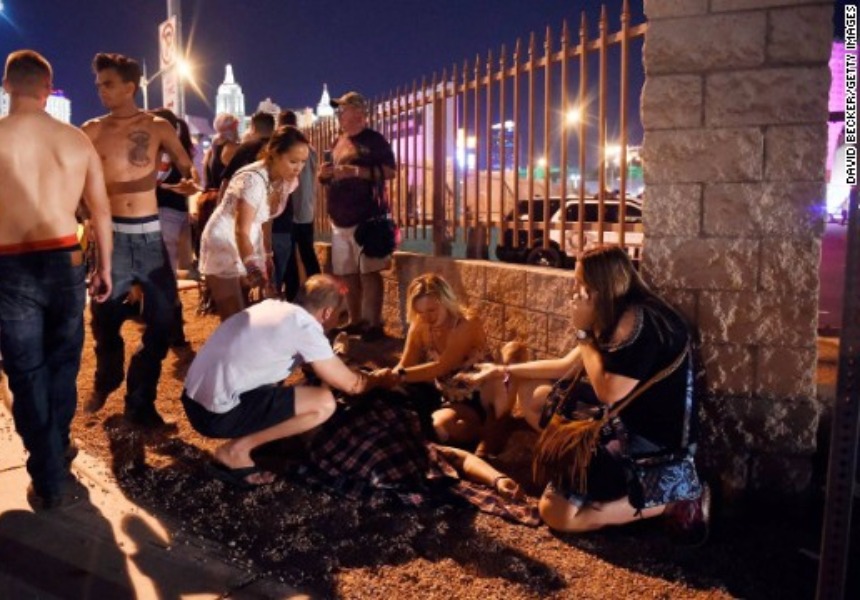 devastating news from Las Vegas! lone gunman goes on a killing spree! video and pictures inside.
A few hours ago Las Vegas was rocked by an incident that shatters the soul. At least 20 people have been killed and scores injured after a gunman opened fire on crowds at an outdoor music festival in Las Vegas. More than 100 others were injured in the mass shooting near the Mandalay Bay Hotel and Casino on the Nevada city's famous gaming strip.
The "lone wolf" attacker is thought to have gunned down crowds at the Route 91 Harvest country music festival from the hotel's 32nd floor, where he was later shot dead by police. Footage that we have obtained showed terrified concert-goers screaming as they fled the gunfire and hid behind barriers for safety.
Police have placed the area on lockdown and closed off parts of the Las Vegas Strip. Some officers took cover behind their vehicles while others carrying assault rifles ran into the hotel. The Las Vegas Metropolitan Police Department tweeted:
"Confirming that one suspect is down. This is an active investigation. Again, please do not head down to the strip at this time. At this time we do not believe there are any more shooters."
Reports on social media, citing police scanners, said the gunman on the 32nd floor of the hotel had shot at a bodyguard and the police. The gunman who opened fire at a music festival next to Mandalay Bay casino in Las Vegas was a local man, police have said. The police said they knew the identity of the suspect, but would not reveal it yet.
According to unsubstantiated reports by ABC News, he was a 64-year-old white male. The police are also searching for a 62-year-old female companion of the shooter called Marilou Danley, who they said lived with him.
Kodiak Yazzie, 36, said he and his girlfriend were watching the performance when he heard what sounded like fireworks. The music stopped temporarily and started up again before another round of pops sent the performers ducking and people scattering. This is sad! The video showing the terrible carnage is below: Warning! Some scenes may be graphic for some!