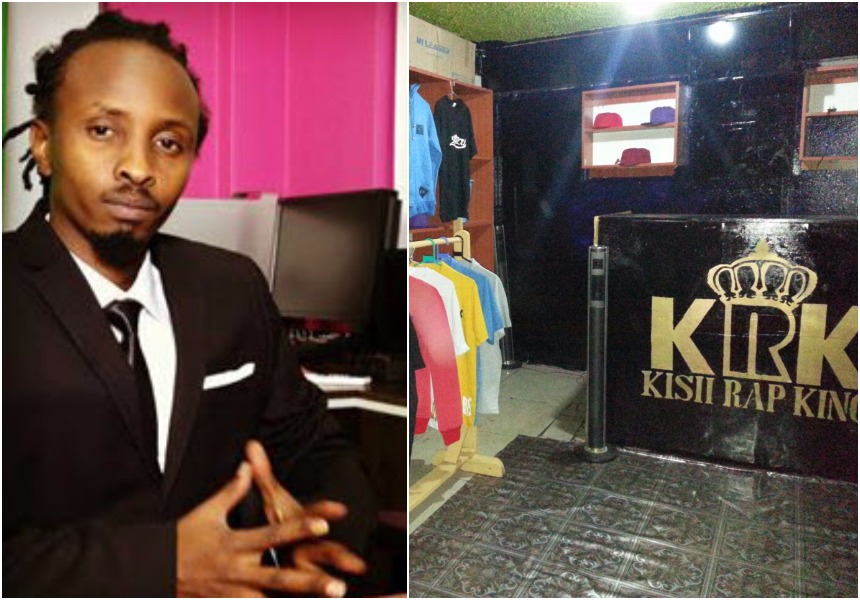 Smallz Lethal launches his KRK clothing line
The Kisii rap King and talented rap act, Smallz Lethal who is also a philanthropist has finally opened a KRK clothing line. For those who are wonder, KRK means Kisii Rap Kings.
The rapper who you wouldn't want to mess with on the microphone has ventured into the apparel business and he isn't stopping anytime soon as he already have opened a branch in the heart of Kisii with a talented team of 15 employees who designs for other artistes and celebrities include creative designers, sales persons and an accountant.
KRK clothing according to Smallz Lethal was founded by the rapper way back in January 2013 and has a paramount, solid plan that will see him expand in other places in the country.
"We are the first to start a private owned clothing line in Kisii, we are independent and will be a force to reckon with in the next few years. Our five year plan is to become the biggest clothing merchandise store in Nyanza & western regions. We are also looking to open other branches In Nyamira, Keroka and eventually in Nairobi." – Smallz Lethal said.
Smallz Lethal also said that they sell absolutely anything in regards to apparel, from hoodies, snapbacks, sweat pants, even underwear as he is planning to be a one stop shop in Kisii.
Below are the photos of some of his KRK merchandise