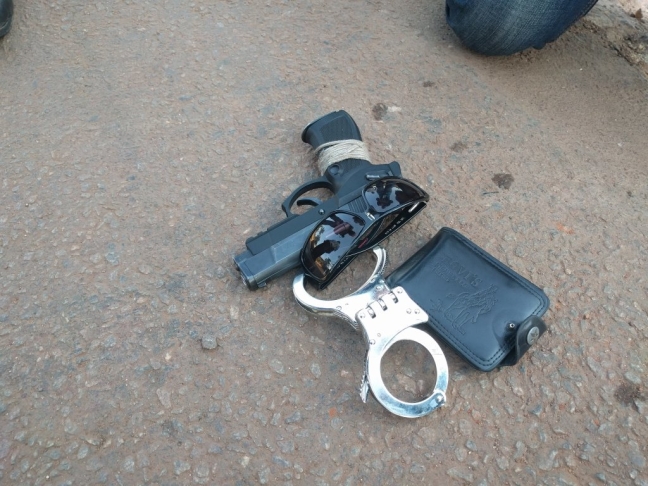 Rest In Pieces! Slain Gaza Gangster Mwani Sparta Laid To Rest (Photos)
You live by the gun, you die by the gun. Let the bodies in the morgue mourn for you and hell embrace your soul! There should be no words of condolences sent to slain Gaza gang ringleader George Mwaniki aka Mwani Sparta who was laid to rest yesterday in Kandara, Central Province.
Mwani was gunned down last week in Weitethie, Ruiru area, Kiambu county in the company of his close friend Willy and left to lie down in the dirt like so many inncoent victims of his crime spree whom he killed without remorse. Police had been on the hunt for Mwani for close to five months and he was finally caught by the long arm of the law.
"HAYAWI HAYAWI HUWA! MWANI AND WILLIS, ARE WITH THEIR ANCESTORS RIGHT NOW. MWANI KILLED POLICE OFFICERS IN KAYOLE NA AKAJIFANYA ANAJUA SANA, ATI RUIRU NDO MAFICHONI: #AMEJUAHAJUI," read a message by HESSY WA DANDORA.
Mwani who was the most wanted thug in the city, was among the criminals terrorizing Kayole and Dandora residents.
A few months ago, Mwani's girlfriend Cleah Adi Vybz christened "the prettiest gangster" was killed by the police and Mwani took to social media to mourn her:
"ALWAYS REMEMBER YOU AND LOVE YOU. RIP MY WIFE." 
Well, yesterday during Mwani's burial, his fellow criminals did not show up for fear of being arrested and toughest cop Hessy wa Dandora has issued a stern warning to them.
"Teddy, Odinga and their squad skipped the occasion (Mwani's burial ceremony) that was attended by appropriately less than 200 people. Since you were not seen anywhere, we allowed him to be buried peacefully. I still insist that you return the guns in your possession to the authorities, failure to do so, I can assure you you will dance the tune because your hideout has been revealed and your movements being monitored very closely!' read a message by the most fierce cop.
Hessy had earlier on stated that those who were planning to attend Mwani's burial should be ready for drama.
"HIS GROUP IS STILL IN POSSESSION OF ANOTHER AK 47 RIFLE PLUS OTHER PISTOLS, AND THE GOVERNMENT IS SERIOUSLY IN SEARCH OF ITS PROPERTIES: THAT MEANS WE WILL BE THERE TO SEE IF WE CAN GET BACK OUR PROPERTIES. AND NO BURIAL PERMIT WILL BE ISSUED TO THE FAMILY, SO IT'S A CLEAR INDICATION THAT IT IS ALSO ILLEGAL TO BURY HIM.

SO FOR THOSE ONES WILLING TO ATTEND HIS BURIAL, EXPECT MORE DRAMA, 'OWN GOALS' INCLUSIVE. YOU KNOW ITS ALWAYS GOOD TO SPEAK THE TRUTH!" READ HESSY'S MESSAGE.
A photo of heavily armed gangsters among them Mwani carrying n AK47 believed to be the one he snatched from a police he allegedly killed early this year has surfaced online and Hessy has called upon the late Mwani's fellow criminals to surrender it to the police.
"Thats the late Mwane with an AK47 rifle, as you can see the group is still armed and dangerous, the group is still in possession of government properties, …..unless all these guns are returned, there will be no peace starting from tomorrow!"
Here are photos from Mwani's burial ceremony. Go through
1.
2.
3.
4.
Story courtesy of Caren Nyota.