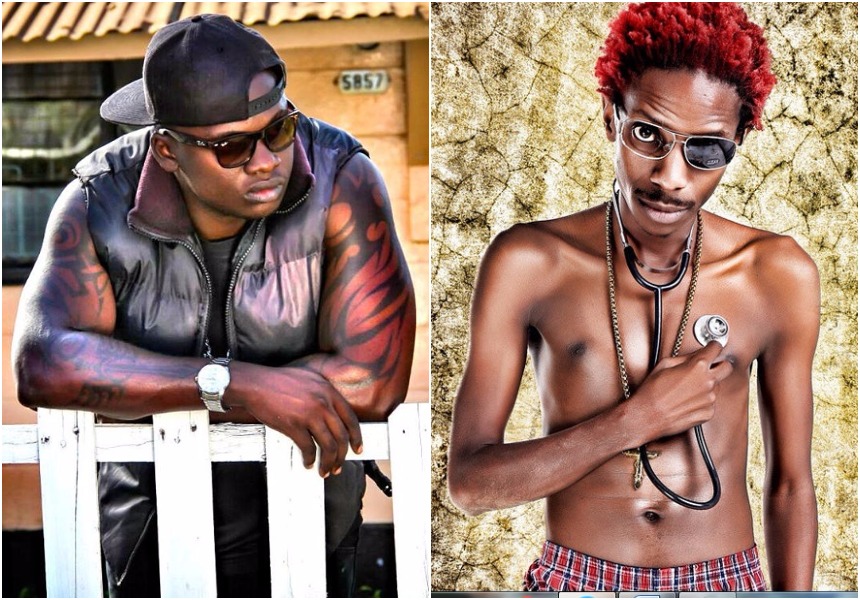 Khaligraph Jones throws jabs at Eric Omondi, ooouuu! this is epic
Khaligraph Jones and Eric Omondi's beef have been the talk of town now for a while and truth be told, whether you like Khaligraph Jones or not, the 1-9-60 rapper slayed comedian Eric Omondi who threw jabs at him the other day even after Baba Yao gave him a last warning and asked him to chill.
The rapper went ham to destroy the comedian the way he did with Vera Sidika with his sick freestyle which made Vera Sidika humbled her and made her sit down. Khaligraph Jones went ham on this one I tell you, attacking Eric Omondi for being so thin so much so that he can't get love from the sugar mummies and that Khaligraph Jones is the sponsor to the sponsor who is sponsoring Eric Omondi.
This is the lyrics to the sick flow below
and this is a warning nataka kupatia Eric
me ni psych utadhani madem wa Nyeri
ntakukata transformer juu wewe ni fala mtapeli
wasee unafaa kubeef nao ni ule buda wa githeri
bro haujamature hauja mature
hauna tactics za "Baba"
hauwezi compare Muite to Justice Maraga
we ni kiraka unafaa kujichunga nami
you just mad coz umekonda na haupendwi na sugar mummies
si wasanii tunafaa kuonyeshana upendo
tell me hauwezi get a wish juu uko na mwili ya mjengo
am sorry bruh sitaki kuwa extreme
hii pupa yote ni ju umeanza kupata wet dreams
mi ndio sponsor wa sponsor anakusponsor
nakuadvice tu ni kama hauna compass
self made hautoshi nishaconquer
your jokes are never funny
that's why sikujangi concert
what's wrong little bro
ukona unenge?
ile kitu nadai saa hii
ni soda na malenge
chapo dondo, pudding
na ugali ya pembe
at least ongeza weight
ndio sugar mummies wakupende
STUPID!