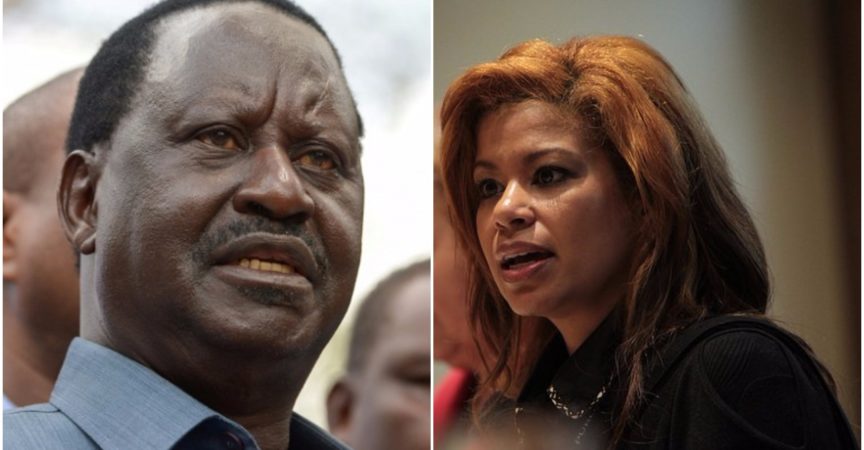 Julie Gichuru reacts to allegations on plot to assassinate Raila Odinga
Former Citizen TV anchor Mrs Julie Gichuru has responded to claims that she was allegedly involved in an alleged plot to assassinate Raila Odinga.
Rumors spread that Julie Gichuru was planning to use poisonous gas to carry out the alleged murder plot during Raila's return from his 10-day US trip.
Via her twitter account,she has says, investigations must be carried out to apprehend the bloggers and everyone who was spreading propaganda against her:
Julie also reveals that,she is now getting death threats from unknown people:
Have some crazy bloggers made VILE, VICIOUS, DANGEROUS & FAKE allegations about me & RAO? This one @JBoinnet @FredMatiangi you must investigate. I do not believe in harming others. Never have. Never will. Never would. Now I am getting death threats over FAKE NEWS. Pathetic!
I will keep saying this, these FAKE NEWS ninjas are dangerous people. Very dangerous. And no one is holding them to account. @mucheru @FredMatiangi @JBoinnet @wangusi you are leaving this country at the mercy of their vicious trade. This cannot continue. Something must be done.
Let me be clear for those so determined to believe foolish lies. I travelled to Accra, Ghana on Sunday to guide sessions on the new media era in Africa for Bloomberg, then to Moscow to a global conference on Ending TB where I moderated.
I headed back to Kenya via Dubai with a four hour transit at the airport. I travel light, with only hand luggage by the way. Dear FAKE bloggers, if ANY gas was found on me or ANY thrratening items, in this era of terror, I would not get through ANY airport. Duh!
Just landed. If you are travelling to or from JKIA, no worries, the roads are now completely clear. 15 minute drive from the airport to Langata

I love coming home



The political environment in Kenya seems to be getting out of hand and something need to be done before its too late.
Here are some of the comments from Kenyans on Julie Gichuru post:
The people mentioned are the very people killing Raila supporters. Are you planning for some coffee with them soonest?! They have great ideas


@JulieGichuru hi please tell your father in law to bring back the stolen money coz at this rate to protect him am afraid you will instructed to even more worse duties just to protect him.
Is it true that you wanted to assassinate Raila or rather poison him as Alai insinuates and he also points that your family is suspected to have poisoned Fidel odinga…
If it's "fake" news as you allege why the details? All the bloggers can't be wrong and you are right. I stopped recognizing your prayers the day I realized that you are a sworn tribalism. May thunder strike you!
Why are you even on these bloggers case, they Lost it long ago, they are Zombies, let them stay dead, they mean nothing to Us.