Jacob Juma's 2016 warning of Safaricom being used to rig election comes back to haunt the telecommunications giant
The National Super Alliance (NASA) has asked its supporters to boycott products from listed companies. Safaricom is among companies blacklisted  by Nasa.
Raila Odinga said Safaricom was used to rig August 8th general election. Speaking at his at Capitol hill offices in Nairobi on September 26th 2017, Raila said Safaricom routed results from the polling stations to a server in France and terminated them there instead of transmitting to the electoral commission's server in Kenya.
For starters, Safaricom was contracted by the Independent Electoral and Boundaries Commission (IEBC) to transmit election results from the Kenya Integrated Electoral Management Systems (KIEMS) kits at the polling stations to the IEBC servers, but alleged Safaricom's system never relayed results to IEBC's public web portal.
Raila explained that results from the polling station KIEMS kits left the country but never found their way back to IEBC. None of the kits under Safaricom's network ever got their results onto the IEBC's public web portal.
Raila's statement came after Jacob Juma warned that Safaricom would be used to rig election. The slain businessman said in a series of tweets dated February 13th 2016 that Safaricom posed a great risk to Kenya's democracy.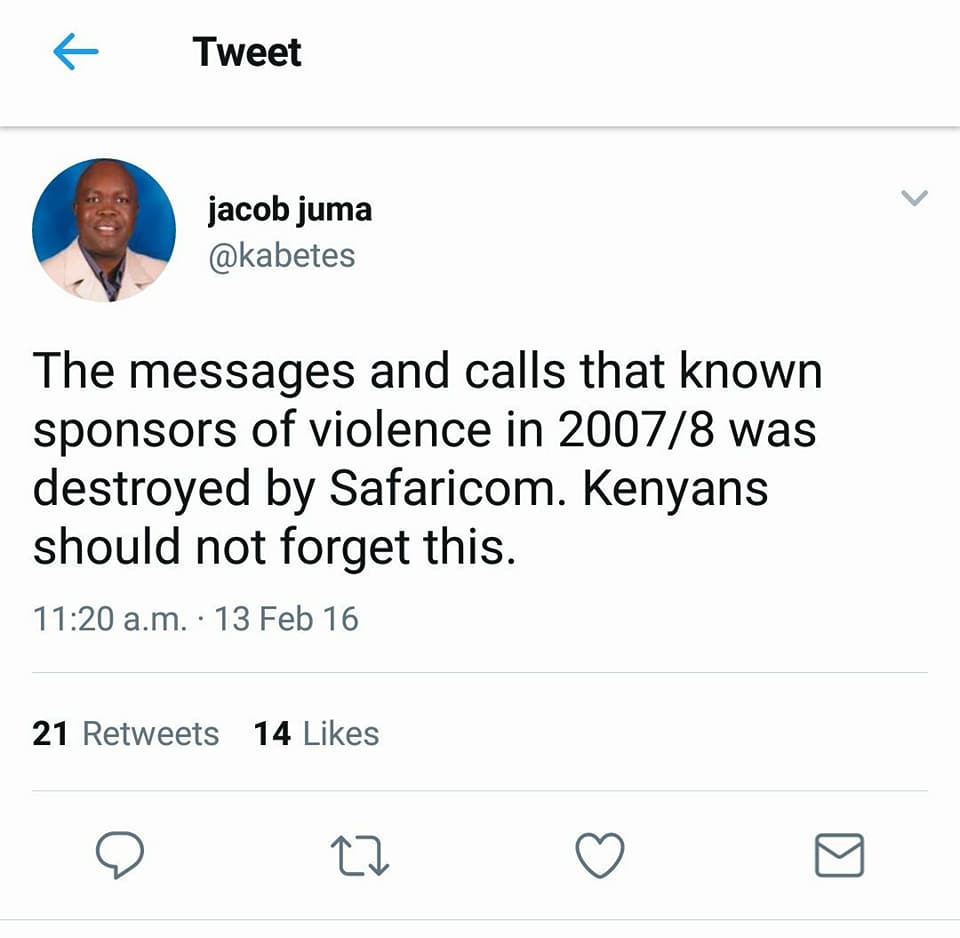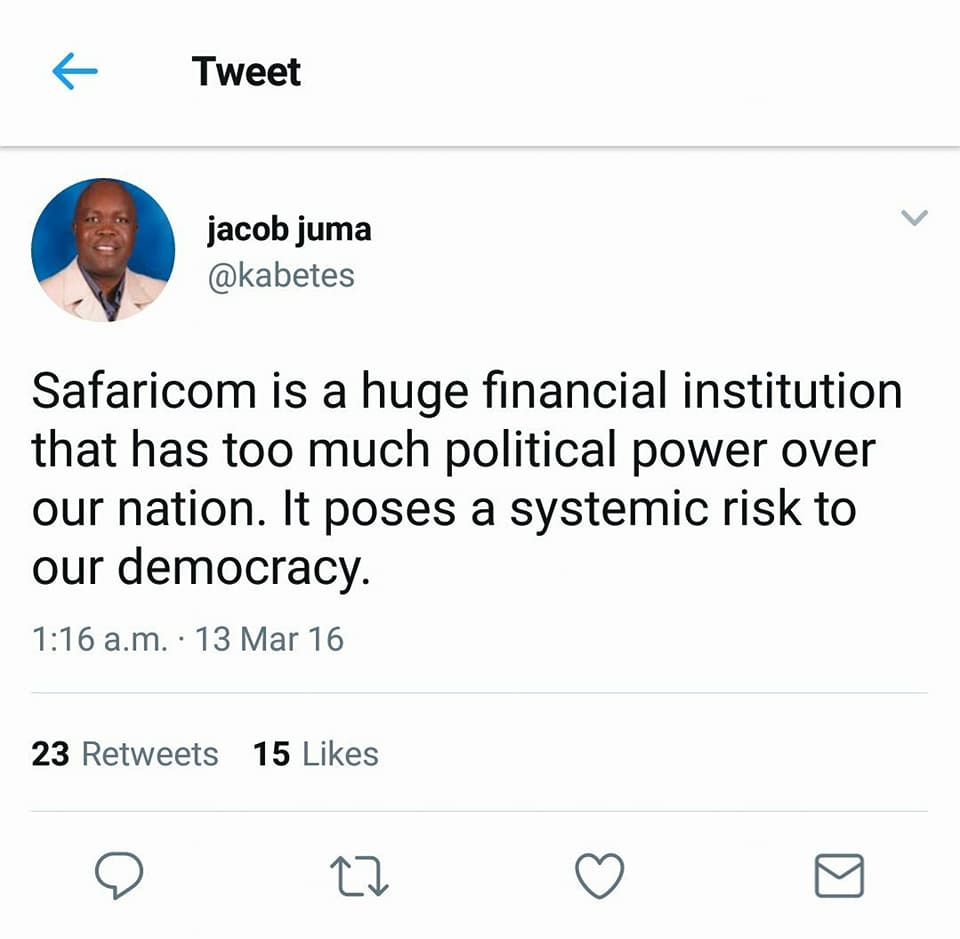 Jacob Juma further warned that IEBC shouldn't contract Safaricom to transmit election results because they would collude with Jubilee to manipulate results.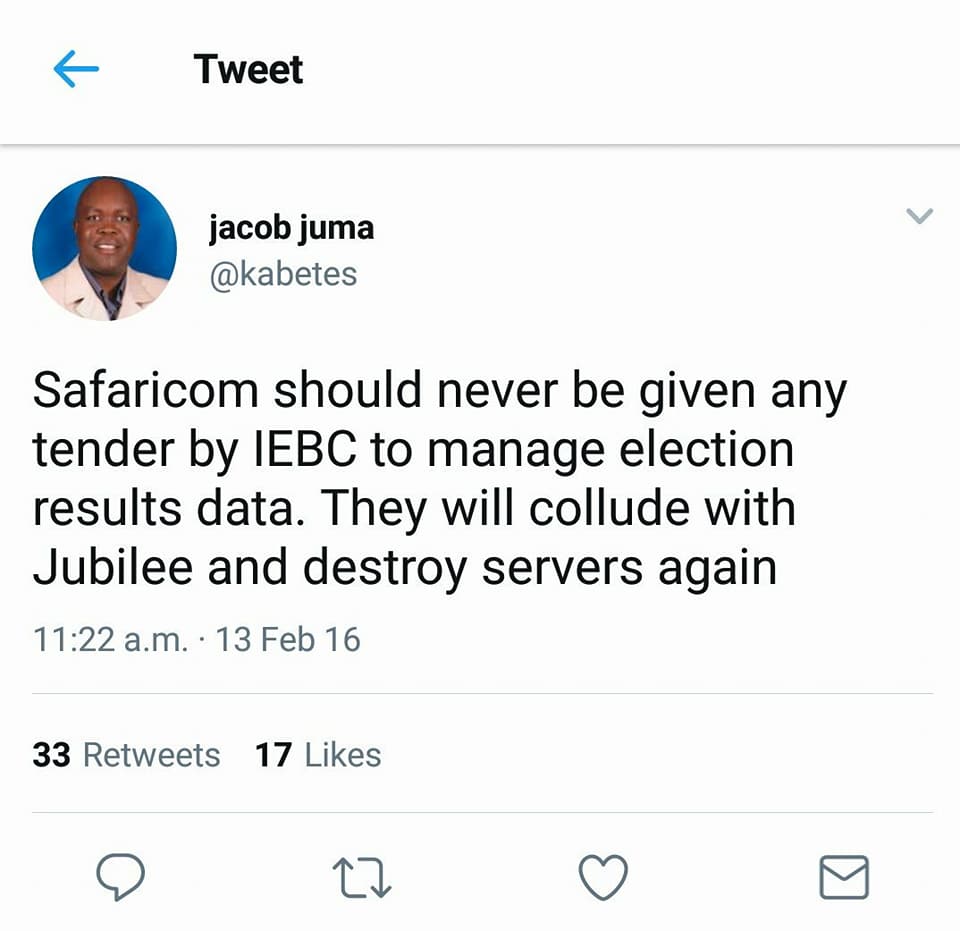 Safaricom went ahead and transmitted the results of August general election and October 26th repeat presidential election despite all allegations leveled against them.
Safaricom CEO Bob Collymore said the telecommunications giant wouldn't be intimidated into pulling out their service for the October 26 repeat polls.
"Safaricom with the other two operators will continue to offer services to the Independent Electoral and Boundaries Commission (IEBC), we will not be intimidated by anyone from playing our role," Bob Collymore said.
Nasa supporters have since been asked to boycott Safaricom services over its role in the shambolic presidential election in Kenya.