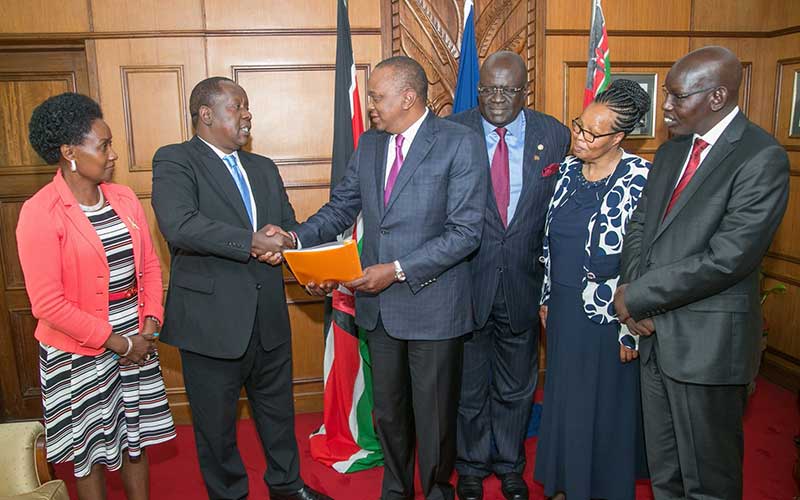 Fred Matiang'i presents KCPE 2017 results to President Uhuru Kenyatta
Fred Matiang'i has presented the KCPE 2017 results to President Uhuru Kenyatta after the candidates sat for the exams less than a month ago.
About 993,718 candidates sat for the KCPE 2017 exams,27 counties had more girls than boys.
Nancy Macharia, TSC CEO says the examination performance has improved and the good performance means that performance contracting is working. She applauded the teachers for embracing performance management.
The gov't provided Sh 100m for purchase of new marking machines,We are no longer talking about exam leakage, we are talking about premature exposure. It is now a thing of the past! says Prof George Magoha, KNEC Chairman.
READ ALSO mimi ni lazima nioe! girl leaves KCPE exams to go and elope
In 2016 A total of 952,021 pupils sat for the Primary School exams and the KCPE candidate scored 436 marks out of a possible 500, compared to last year's 449 in results announced by Education Cabinet Secretary Fred Matiang'i.
Only 5,190 candidates scored 400 and above, a drop from 2015's 7,560. There were no cases of examination leakage in exams that have been described as the most guarded in Kenya's history.
We were anxious about the dates of the exam when the presidential election was nullified reveals CS Fred Matiang'i.
The Ministry of Education has achieved almost total parity in the number of candidates who registered for the exams.
Education CS Fred Matiang'i says intervention from President Uhuru Kenyatta ensured they got the necessary materials to facilitate smooth handling of the KCPE 2017 exams.
The exams body also confirms there shall be no complaints because the marks are at 99.98% correctness.
Due to rains,KNEC hired several helicopters to assist in airlifting examination materials in time.
As promised, this year's exams was set and firmly secured until every Kenyan child was given an equal opportunity to sit for that exam says George Magoha.
Matiang'i says no one will miss their results this year.
READ ALSO KCPE candidate run over by a trailer while celebrating Uhuru Kenyatta's win