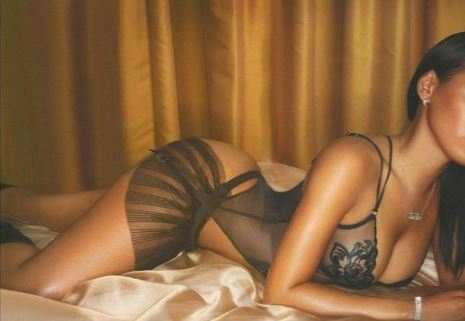 EXPOSED:Photos Of 9 Celebrities Who Slept Around Just to Get Fame And Rise Up The Ladder!
Nowadays, it seems that everyone is looking for how to get onto the fast track when it comes to reaching fame, even sinking to desperate cries for attention on social media through scandalous pictures and tweets. However, it's not just publicity stunts that have been successful for those looking to achieve their 15 minutes of fame.
9. Karrueche Tran – Attracts All Hip Hop Artists
Karrueche Tran can now be seen on cooking specials with Kylie Jenner or riding motorcycles at Coachella with Christina Milian, but everyone seems to wonder how she became famous in the first place. While her tumultuous relationship with Chris Brown after he split with Rihanna was a huge catalyst in getting her name in the headlines, Brown wasn't the only man romantically linked to Tran over the years. Ray J, Rob Kardashian, and The Game have all been said to have had "encounters" with Tran; yet it was Chris Brown that ultimately helped to gain her the fame she so desperately craved.
8. Lindsay Lohan – The List
Lindsay Lohan may have started her career as a child actress, but the issues in her personal life have become front and center in the eyes of the public. Romantically linked to a few celebrities in Hollywood, the world didn't know just how many notches were on her bed post until a very telling In Touch Weekly spread in 2014. Lohan was staying at the Beverly Hilton Hotel and supposedly wrote down names of sexual partners, which was then revealed in the magazine. While some claim the list was fake, it's impossible to ignore that there is a connection between Lohan and each of the names on the list. Naming 36 famous lovers, Lohan added a new dimension to her already shaky twist to fame.
7. Kendra Wilkinson – In And Out Of The Mansion
When Kendra Wilkinson was first spotted by Hugh Hefner at the tender age of 19-years old, the public wondered what she could possibly see in this grey-haired senior. Although no one was deluded into thinking this was true love, it was a little shocking to hear about what was really going on while she was at The Playboy Mansion. Wilkinson opened up to Access Hollywood about all the nights she would sneak out of the Playboy Mansion, and she also admitted that she was carrying on a romantic relationship with Hank Baskett while she was living there. There were also two separate sex tapes leaked starring Wilkinson, but it only seemed to add to the public interest once she married Baskett and got her own reality show.
5. Rita Ora – 20 Guys?
While Rita Ora has created a name for herself with a mildly successful music career, most of her fame has come from the controversy surrounding some of the relationships in her personal life. One of her most tumultuous relationships was with Rob Kardashian, with the couple splitting in 2012. Kardashian famously put her on blast on Twitter by saying, "She cheated on me with nearly 20 dudes while we were together, I wonder how many she will sleep with now that we apart? But I mean 20?!!!" Most recently, Beyonce's Lemonade single referenced, "Becky with the good hair," which some speculated was about Rita Ora.
4. Kim Kardashian – What Hasn't She Done For Fame?
Although the daughter of a well-known lawyer, Kim Kardashian didn't achieve true fame until the release of the sex tape with Ray J. Oftentimes, she is referred to as the celebrity that achieved fame through lying on her back- Kim has become an expert at using her sexuality for profitable gains. Although her dating life is impressive enough due to the sheer number of men on the list, she is most noted for being married three separate times. Her marriage to Kris Humphries only lasted 72 days, and the tabloids are constantly filled with speculation on the current status of marital bliss between her and Kanye West. While she's definitely made the most out of her 15 minutes, it's difficult to forget how she got there in the first place.
3. Paris Hilton – From One Conquest To The Next
While Paris Hilton was a regular at all the top Hollywood clubs, she wasn't famous until the release of her sex tape with Rick Salomon. Coincidentally, the tape was released shortly before the premier of her reality show, The Simple Life, which only heightened the intrigue surrounding this hotel heiress. 1 Night in Paris was a huge catalyst in making Hilton famous, but it definitely wasn't the end to the long list of sexual partners for this "famous for being famous" socialite. Nick Carter, Benji Madden, and Doug Reinhardt are just a few of the many different men on the arm of Hilton over the years and it doesn't seem like wedding nuptials are on the horizon any time soon.
2. Nicole Murphy – Thanks Eddie Murphy
While Nicole Murphy has an extensive and accomplished modeling career, she is best known for her tumultuous past relationships. Married to Eddie Murphy for 12 years, the couple had five children together. Since their divorce, Murphy has jumped from one high profile relationship to the next, including television personalities like Nick Cannon and Michael Strahan. Strahan and Murphy had a highly publicized five year long engagement that ended with the couple splitting, but that hasn't stopped Murphy from continuing to flaunt her bikini-ready body on the beach. While she is no longer a regular on the runway, she's definitely still trolling for men to maintain her celebrity status.
1. Amber Rose – From The Pole To High Profile Relationships
Amber Rose has never made any apologies or excuses for her previous time dancing on the pole, but she has definitely utilized the most out of her 15 minutes of fame in the limelight. Starting off in the public eye as arm-candy on the red carpet with Kanye West, she rarely talked and chose to express herself through her scantily clad outfits and signature bald head. Once the couple split, Rose refused to give up her newfound fame. Moving on to Wiz Khalifa, Rose proved she wasn't about to go back to the pole. Becoming a television personality, collecting child support from Wiz, and creating a huge fan base on social media, it seems like Amber Rose's stripping days are done.
Credits:theinfong