Ma**** yangu yameniharibia maisha! Huge breasts have ruined my life, cries Australian girl!
I love big breast and I will not lie. That is paraphrasing from a popular rap song from the early 90s. But the quote is not about boobs but behinds. This story deals with one woman's struggle to deal with her big breasts.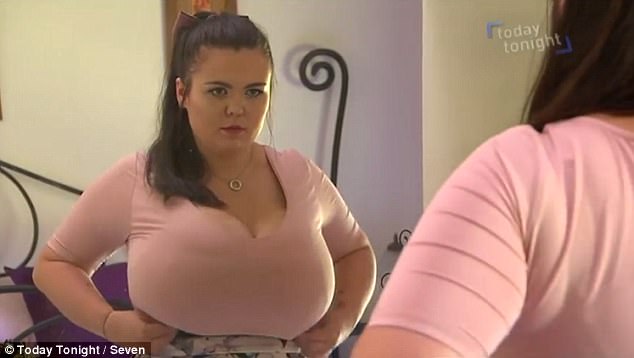 Sheridan Larkman, 23, whose breasts started to develop from the age of eight has opened up about how her K-cup bust 'ruined' her life. 
The mum-of-two 
from Victoria, Australia, claims that her boobs have been growing since she was just eight years old and she was a D cup by the age of 10. Many women will never ever be D cups even when they get babies! Maajabu!
Speaking to Today Tonight she said:
"It has ruined my life. I hate my boobs… Always hated them. I'm only 5'4 so I've not got that height to compensate for the weight or the size of them. 

I don't want to be old and have to be in a bed curled up because of the strain I put on my spine. 

With larger breasts, obviously there's a lot of pain that comes with that – back pain, shoulder pain… I've got the start of mild sclerosis. So that in turn will get worse if I don't fix my condition soon."
She also spoke to News.com.au and revealed that she gets messages from men around the world asking her for
topless photos which she refuses to give. Manze, mafisi hawana huruma! 
Fed up of her daily struggle, Sheridan decided to set up a GoFundMe to raise the $10,000 needed for her surgery. So far, she is very close to her target having raised $8,070. 
She added in her appeal
:
"Please, help de-stress my chest. I am 23-year-old mum of 2, I have had breasts since around the age of eight. 

I'm currently sitting at a 12K or 34K (UK). I have seen a fitter who believes I'm definitely needing a larger cup size. 

I have been seen by my GP since the age of 16 regarding a Medicare-funded reduction, but I'm yet to get any further."
This story is unique in that many women are insecure about their boob size thinking them too small. But here we have a lady who is the complete opposite. No jokes here but sympathy. Check out her video below: