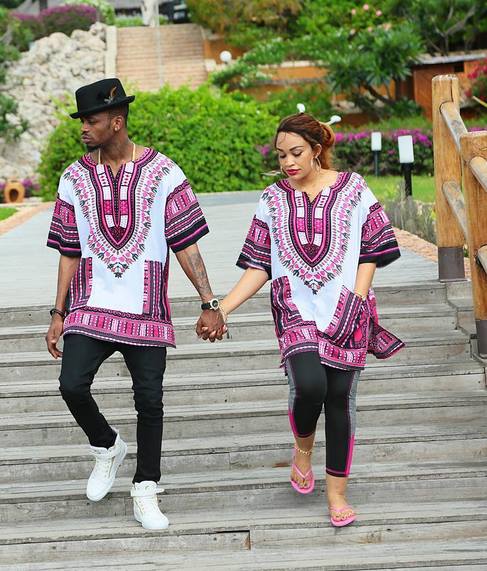 "Ukipata Mchumpa Wa Nchi Nyingine Inabidi Kitandani Ujitahidi" Diamond Praises His Lungala Game As Zari Walks To The Airport Braless (Photos)
So pregnant women don't wear bra or is it just Zari? Her protruding nipples were very conspicuous as she walked out of the plane in company of her husband and daughter.
Diamond and Zari is a fascinating celebrity couple that like to court controversies with their public stunts.
The two lovebirds recently flew to an undisclosed destination and Diamond shared their photos on social media.
One thing that came out clear was that Zari wasn't wearing any bra at all; her translucent black dress gave out detailed shape of her boobs. And her nipples were also smiling all along.
Diamond also praised his game in bed as he captioned his photos. The Tanzanian superstar says he is a bedroom bully; he explains that his game is superb because he's also selling the name of his nation when he is 'serving' a foreigner properly.  (For those that didn't know, Zari is Ugandan)
"Ukipata Mchumba wa nchi nyingine inabidi kitandani ujitahidi kufanya show Nzuri….Maana unaliwakilisha Taifa…" Diamond posted. [Translation- When you get a wife from another country you must deliver your A-game in bed because you are also representing your country.]